COMMUNITY TRANSPORT
---

UPPER TAY TRANSPORT GROUP
Link to web site Upper Tay Transport Group – Better Transport for our community and our enviroment
---
UPPER TAY COMMUNITY TRANSPORT HUB LAUNCH
We are delighted to invite you to the launch and opening of the Upper Tay Community Transport Hub on Friday 18th June from 3 – 4.30.
As you may know, Upper Tay Transport is working to improve transport in the area, both for the benefit of our community and environment. We are developing and running a number of projects to achieve this. The Community Transport Hub is part of this, providing information, support, a base for all our projects including Community Lifts, our volunteer driver scheme, a future community bus service and our community bike loan service. The Hub is based in the Locus Centre, the Square, Aberfeldy and is currently open Monday to Friday 10am – 2pm.
The launch and opening will be held in the Square and in the Hub so we can manage numbers of people in the building appropriately. Tea, coffee and cakes will be provided outside.
We hope you are able to come along to find out more about the Upper Tay Transport project. The event is open to the public so do bring along anyone who might be interested.
Upper Tay Transport Emma Burtles 07881 991176
---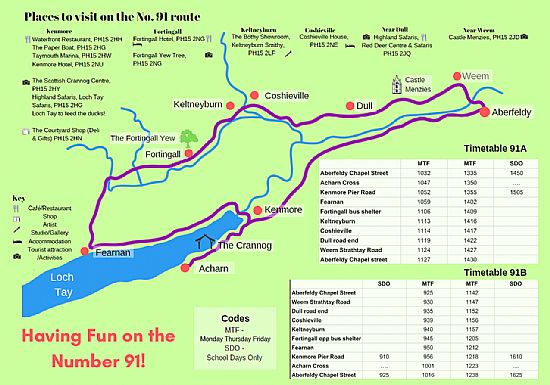 Having fun on the 91 bus !
See document for more detail: Timetable, What to do and Where to go.
click 'Having fun on the 91'