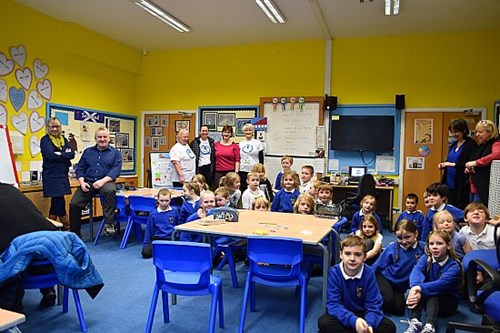 2 GIRLS 1 LOCH   
Added on 23 April 2020
Samantha Weir & Beth Scholes visited Kenmore PS to tell all and answer lots of interesting questions about their impressive Loch Tay swim. Killin to Kenmore in a very cold Loch. The 15/16 miles took 8.5 hours. Seemed the easy bit after they explain the 9 months of planning and the miles of training they went through.
They dedicated the swim to raising money for the Scottish Charity Air Ambulance (SCAA), because, it is a vital service to our rural community. They have raised over £3000, to date.
Sarah Kelly and Christine Sofflet, local fund raiser for SCAA were also there and answered questions about the helicopter service. It is Scotland's first charity funded air ambulance and provides a time-critical life-saving service across Scotland, often vital in Scotland's remote areas.